Guarded Government Sites Near Washington, D.C.
August, 2002 -- Earlier this year, some news media attention was given to word that the federal government was creating a "shadow government" at the reactivated Continuity of Government sites, also known as "secret bunkers". (See articles in the Washington Post and Guardian )
This page is for those who are curious about the exact locations of those and related installations in the Washington area. I identify all the significant federal sites that I know about whose locations are not readily acknowledged by the government. As such, I'm merely extending the excellent work of the Federation of American Scientists in its C3I page.
For a detailed map of how to get to any of these locations,
--click on its red label in the map below OR
--see notes below the map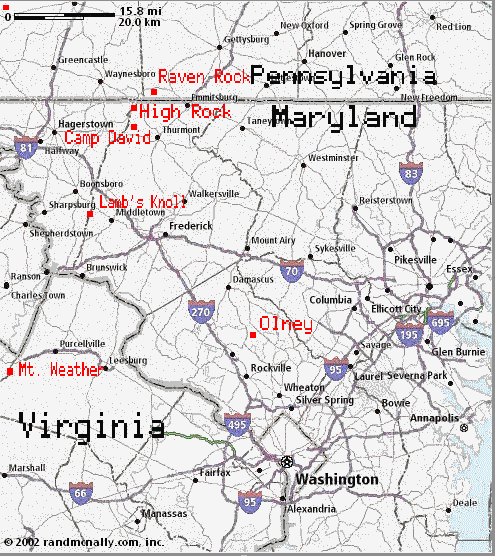 Mt. Weather -- This is the best known of the so-called secret bunkers where government officials would hide in the event of an attack on the U.S. It is also houses the FEMA Emergency Operations Center above ground, which hosts conferences and has a Web site . Nevertheless, the guards at the main gate try very hard to keep you from photographing it.
Background information , including extensive aerial photos.
How to get there

Lamb's Knoll -- This is the newest of the installations; that is, it's been built since 1960 when I hiked that part of the Appalachian Trail as a Boy Scout.
Background information .
How to get there

Camp David -- Although everybody knows about the presidential retreat and the news media have located it as being inside Catoctin National Park, the park rangers are laughably coy about admitting that it's there. The philosophically inclined who make their way up to view the perimeter fence will not miss its similarity to that of a high-security prison.
Background information .
How to get there

High Rock -- This radio tower is even more highly secured now than it was when the adjacent Ft. Richie was still in use. There is a gate and a troll...trailer, occupied by a soldier, blocking the access road, that wasn't there in 1960. Even the FAS has nothing about this site. At any rate, the nearby scenic overlook has a spectacular view of the valley to the west.
How to get there

Raven Rock -- This is apparently a major underground installation. Unlike Mt. Weather, it has no above-ground unclassified facilities. When I started out as a computer programmer for a defense contractor in the late 1960s, one of my senior colleagues would disappear for several days. Where had he gone? "Up to the Rock..."
Background information .
How to get there

Olney -- As I recall, this site originally was a Nike missile base. Now it is has been turned into a big antenna farm.
Background information .
How to get there



To Do:
1. Find the Hagerstown site.
2. Find the Mercersburg site.

---
Charles Packer mailbox@cpacker.org

Home page