A Temple to the Weather Satellite
A Photo Essay
by Charles Packer
Suitland, Maryland, June 2006 -- The new NOAA Satellite Operations Facility was finally ready for occupancy in March. The infamous "open plan" office environment -- meaning "big hive crammed with cubicles" -- has never before, perhaps, had the setting of vibrant stateliness that it does here.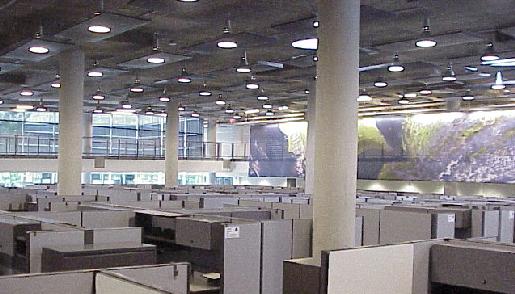 When NSOF ("ENN-soff") is fully occupied, about half the workers will have cubicles in large rooms with high ceilings. Each room lets in daylight through a side that looks into one of several small courtyards. The other sides are hung with immense reproductions of images captured by earth-observing satellites. The effect is a little like being in a tall museum gallery lined with tapestries or the reading room of a great library.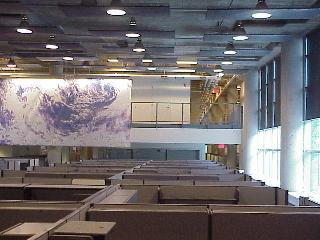 The rest of the workers, yours truly included, occupy a single huge space with a glass wall forming its entire curved south side, giving a 180-degree view.
For me, it's a major change. I've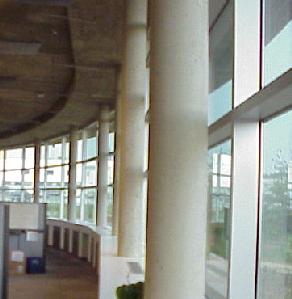 spent most of my long programming career sitting in real offices -- but almost always without windows, often in buildings without windows. After three months in these surroundings I've decided that the higher density and loss of privacy are a fair price to pay for being able to see outdoors on such a grand scale. I'm looking forward to the first violent thunderstorm that occurs during working hours.

All of us toiling away in this airy interior belong to a bureaucracy devoted to the management of NOAA's environmental satellites and the distribution and archiving of their data. The antennas and computers that harvest data from orbit are, appropriately enough, above us. The narrow five-story structure that houses them is the most visible part of NSOF and makes a dramatic addition to the area's skyline.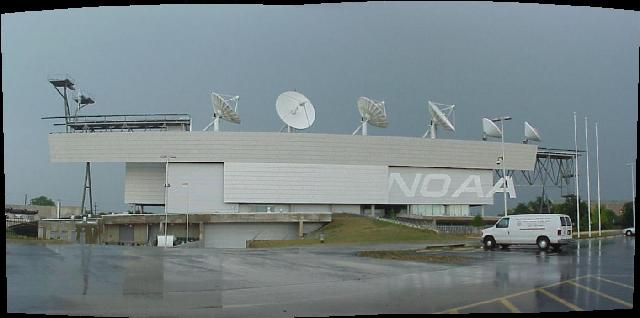 The actual satellite control room also is in the tower, and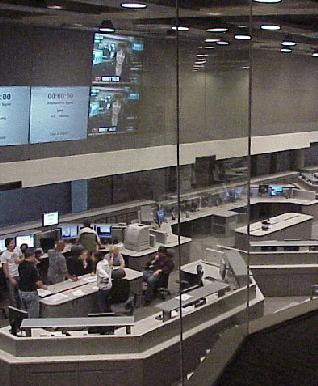 it's tempting to think of the folks up there who communicate with the spacecraft as the high priests of this whole operation...though they had CNN on the big screens when I photographed them...

Like most high-class modern architecture, this building doesn't hide its skeleton. Beyond that, though, there is still a startling let-it-all-hang-out esthetic operating. The ceiling is raw concrete; electrical conduits are visible.
The concrete doesn't even have the textured surfaces that are typical of the brutalist style.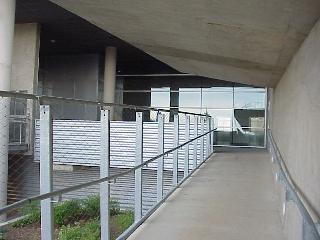 Stairways are sheet metal and clatter under footsteps. There seems to be lots of wire mesh everywhere.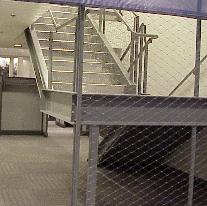 What's going on? Is this building even completed yet? Was the budget slashed midway through construction? This has been known to happen in government projects. But not here, I think. The architects, led by Thom Mayne, have a reputation for working harmoniously with government clients.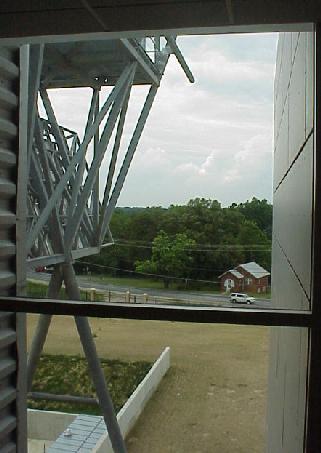 I prefer to believe that the coarseness is not a passive response to constraints, but the result of positive inspiration, that its origins are in the utilitarian structures that support NOAA's research activities at its far-flung outposts: the oceanographic ships, the rocket launch towers, the remote meteorology stations...where real men get their hands dirty carrying out NOAA's mission (women too, of course). In the design of NSOF, some of the romance of that venture has been brought home to the Washington suburbs for us desk-bound wage slaves.

As an architecture buff, I've often read about the notion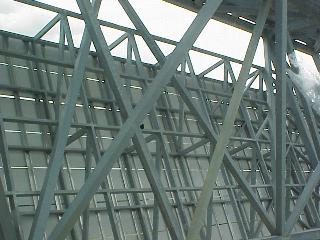 that a good building interacts with, or "engages" its environment. Now that I can experience a work of serious architecture day in and day out, I'm beginning to understand what that means.