The Foliage Time-Lapse Project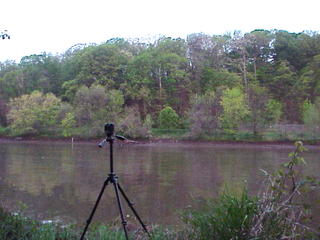 Anacostia River, Washington, D.C.
These time-lapse series show the seasonal day-by-day change in foliage captured in the stillness of early mornings, occasionally accented by mist over the water or darkening of tree trunks by rain.
Click on an image below and wait a few seconds for the images to load. Then the movie will start and the foliage changes will slowly evolve. Expand the browser window to full screen for best viewing. The window will fade to black at the end of the movie. Click on your Reload/Refresh button to restart it, or your Back button to return to this page. If it doesn't work, check to make sure that your browser has Javascript enabled.
(For more information about this project, scroll down to the bottom of this page.)
Compare above view 2008 vs. 2009 in tandem slide show
Objective
My ultimate goal is to produce a six-minute video for large-screen high-definition TV of daily foliage changes spanning a full year. There are challenges, both technical and aesthetic, in assembling a series of one-per-day landscape photos into a seamless movie. I intend to address them using my experience in developing image processing software. This Web site is a first approximation that will show spring and fall seasons at reduced size.
Technical
Each time-lapse series is a sequence of still photos taken once per day. I want to avoid shadows in the images, so on clear days I shoot before sunrise. Another advantage of shooting in the early morning is that the air is relatively calm, minimizing wind motion of foliage that would make it look jittery in the movie.
My cameras are an Olympus SP-350 (in 2008) and a Canon EOS 20D. Both were used in the RAW mode. They both have optical zoom, making digital enlargement unnecessary. However, I have made use of cropping to remove sky, which otherwise would have been a distracting element in these movies. I adjust the overall brightness of individual images and their balance of red, green, and blue. However, I have elected to forgo the contrast-enhancing techniques that are usually applied digitally to Web landscape photography.
I do the image processing with ImageMagick and my own software. I also used GIMP and xv during software development. A key element in my Web presentation is some Javascript code that I found here. At full resolution, the images are about 3000 pixels across, which would require a video screen about a meter wide, so for the Web movie I have subsampled them and used JPEG compression.
Background
During the 1990s I had a programming job at NASA in Maryland. The glorious autumn foliage along the nearby Baltimore-Washington Parkway started me thinking about how to make a time-lapse movie of seasonal foliage changes. By 2000 good digital cameras had become affordable. For the next few years I considered various sites around Washington for how they would be illuminated at various hours and whether I would be able to get to them every day.
My first project was in 2007 at a park in Suitland, Maryland near where I was working. The site I finally settled on is a view of the grounds of the National Arboretum from across the Anacostia River.
---

Last modified: December 28, 2013

Charles Packer mailbox@cpacker.org